So my new friends at
FabFitFun
recently interviewed fashion designer and stylist, THE Rachel Zoe. In the interview they asked her what she believes to be the biggest trend for Fall. Ms. Zoe replied that she has observed a lot of velvet on the runways for the Fall/Winter seasons, in the form of shoes, blazers, bags, pants and tops. I can't help but make my own observations that A) Rachel's face looks completely different since her facelift and B) there seems to be more and more trends based on
Hugh Heffner
's wardrobe. Who knew in his old age he'd become such a fashion icon? Go girl.
Velv on the runway.
Below are some of my picks for incorporating velvet into your wardrobe this Fall/Winter.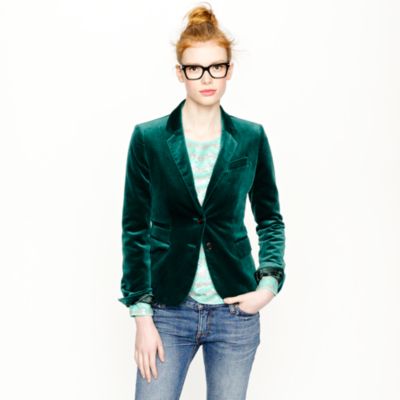 JCrew
Schoolboy blazer in velv.
Chanel Fall 2012 plush velvet Boy Bags.
Happy shopping you velvet vixens!... Alliteration is fun, isn't it?
xoxo